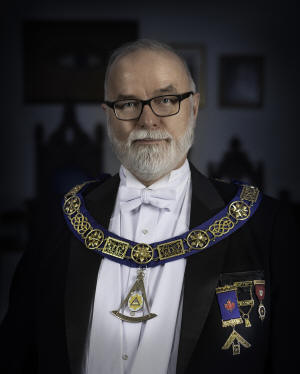 The Grand Master, M.W. Bro. Thomas W. Hogeboom,
is pleased to welcome you...

The Communique - September 2022

R.W. Bro. Brent Julian has chosen Valhalla Project Niagara
(PTSD recovery for First Responders)
as our district charity this year.
Masonic Foundation of Ontario
Charity Number - 2426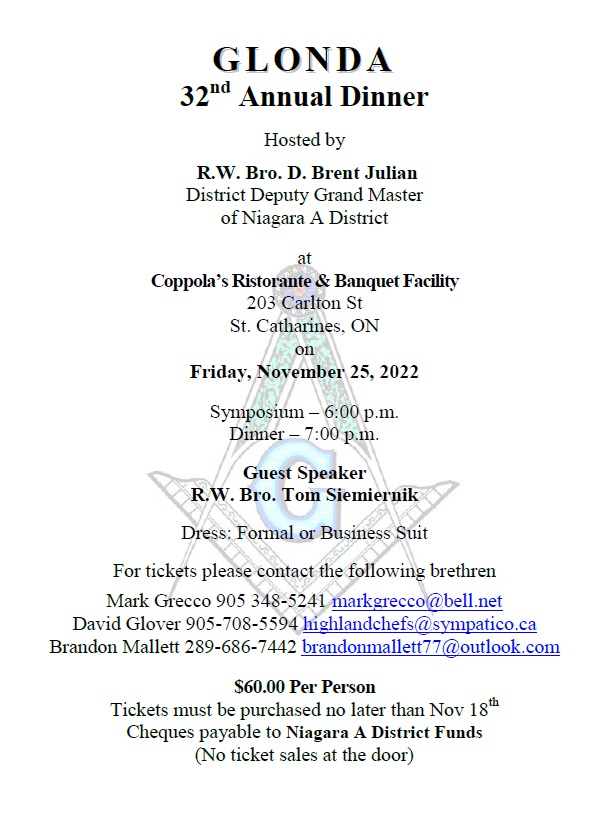 Travelling Gavel
RULES




Who's Got It?
Amity No. 32 picked it up from Niagara No. 2 on Wednesday, March 6th, 2019 at their Official Visit.

Inter-District Busting Gavel
RULES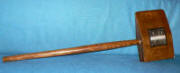 Where is it?
Brock Daylight No. 745 paid a visit to Phoenix No. 535 on November 19th, 2018 to leave the gavel in Niagara B District.
The Travelling Trowel
The Trowel is to be delivered to another Lodge by the Worshipful Master where a First Degree is being held and it must be presented by the newest Mason of the delivering lodge. Its intent is to promote travelling and visitation by the newer members within the district.

Watch for it coming to your Lodge from Brock Daylight Lodge 745. It was delivered to them on September 14, 2019 by Garden City Lodge 616.
Grand Lodge Officers in Niagara A District - 22/23

R.W. Bro. Edward F. Dunsmore - Elected Member of the Board of General Purposes
R.W. Bro. P. Raymond Borland - Appointed Member of the Board of General Purposes
R.W. Bro. Michael J. Locke - Honorary Member of the Board of General Purposes
V.W. Bro. Colin Smagata - Grand Steward




District Appointments - 2022/23

Chaplain
Bro. Sheldon Kofsky,

FCF


jmaks@jmaks.ca

Treasurer
W. Bro. Cam Johnson
cammj1974@gmail.com

Blood Donors
Bro. Joshua Beaupre
jbeaup@gmail.com

Computer Resources
R.W. Bro. Bruce McLennan
bruce.mclennan@trilogentech.com

District Planning
R.W. Bro. David Gillis (chair)
gillisd2015@gmail.com
R.W. Bro. Edward Dunsmore,

FCF


R.W. Bro. Michael Locke,

FCF


R.W. Bro. Tom Wills
W. Bro. James M. Harper

Grand Lodge Programs
R.W. Bro. Michael Locke,

FCF


secretary@gardencity116.com

Special Events
W. Bro. David Glover
highlandchefs@sympatico.ca
W. Bro. Brandon Mallett
R.W. Bro. Graeme McLoughlin



Benevolence/Charity/MFO
W. Bro. Cam Malabar
newton@bell.net
Photographer
W. Bro. Chuck Cossette
paws713@sympatico.ca

Mentors
V.W. Bro. George Fairbairn
gfairbairn49@gmail.com

District Lodge Coordinator
W. Bro. James M. Harper
jmh@bell.net

Lodge of Discussion
R.W. Bro. Edward Dunsmore,

FCF


efdunsmore1955@gmail.com
R.W. Bro. Michael Locke,

FCF


R.W. Bro. David Gillis

Lodge of Instruction
R.W. Bro. Edward Dunsmore,

FCF


efdunsmore1955@gmail.com
R.W. Bro. Michael Locke,

FCF


R.W. Bro. David Gillis